Copy Post & Ship
For affordable and convenient shipping solutions, there is no better choice than Copy Post & Ship. For nearly 30 years, we have offered the very best in shipping, mailing and other postal services. Whether you need a fragile item shipped or you would like to rent a mailbox for mail-forwarding purposes, we can help.
Postal Services in Humble, TX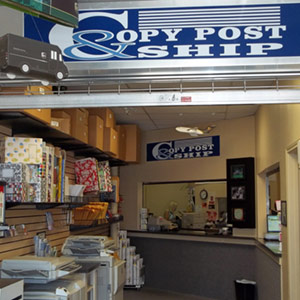 When you are looking for a comprehensive postal service in Humble, TX, look to Copy Post & Ship. Since 1987, we have provided customers with quality and convenient solutions to all of their mailing, shipping, sending and receiving needs. While other companies offer a few mailing services, we are the only ones that integrate every shipping and mailing need you might have in one great place. Our aim is to be your one-stop-shop for all of your postal services in Humble, TX. From mailing packages to receiving forwarded mail to notarizing documents, our service provides everything you might need in a mailing center.
Finding a reliable shipping store in Humble, TX, can be difficult. At Copy Post & Ship, we offer mailing, faxing, scanning, copying and a litany of other services to help you send and receive exactly what you need. We are your certified Associated Shipping Outlet for UPS, FedEx Authorized Shipping Center for FedEx and your Preferred Shipping Provider for USPS. We are additionally your Certified Mail Receiving Agent for USPS, a member of the Association of Mail and Parcels Center, and also certified as a notary public with the Secretary of State. Our loyal customers come to Copy Post & Ship for all their shipping service in Humble TX, because:
We offer an assortment of shipping and mailing solutions.
We rent mailboxes and provide mail-forwarding services.
We sell an extensive selection of packing and mailing supplies.
We offer notary services.
Our prices are affordable and our service is convenient.
Our Services Include:
Postal Service, Postal Services, Mailing Services, Mailing Center, Shipping, Shipping Company, Notary Public, Notary, Shipping Store, Shipping Services and much more.